View or download a variety of premier outdoor furniture, umbrella and sun control collections. Want to know more? Submit the form below with your preferred item and we'll get back to you with details shortly.
East Coast Umbrella
Purveyers of both fiberglass as well as heavy duty aluminum umbrellas. Wooden and beach umbrellas for residential and commercial also available. Check out East Coast's solar-powered LED light system!
---
Fiberbuilt
State-of-the-art fiberglass-ribbed umbrellas that are strong, resilient and durable. These contract-quality products hold up against punishing weather, wind, sun and salt air and are available in marine-grade fabric.
---
Florida Seating
A leading supplier of commercial furniture for the restaurant and hospitality industries. Florida Seating offers an affordable, ever-expanding collection created by award-winning designers.
---
Gloster
Gloster began in West Africa in 1960, representing quality and design leadership in the commercial outdoor furniture arena. Gloster employs over 1,000 craftsmen to create the world's best outdoor furniture.
---
Shores of Denmark
Exclusive outdoor furniture with a Danish flair, made specifically for the cruise and hotel industries. Shores of Denmark supplies the world's grandest cruise ships and hotel chains.
---
Skyspan Structural Umbrellas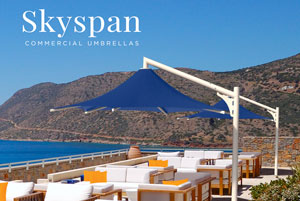 Skyspan's commercial umbrellas come in traditional as well as shade sail and 360 degree-pivoting cantilever styles. Wind tested to 75mph, with steel frames and a marine grade powdercoat finish, check out the Skyspan Vista for poolside, outdoor dining and break areas.
---
Source Outdoor
Affordable outdoor furniture for the hospitality and restaurant industries. Solve design problems and increase the value of your experience with some of the most recognizable commercial furniture available.
---
Superior Shade
Specializing in custom fabrication of shade, Superior structures are perfect for playgrounds, picnic areas and carports. Their innovative Glide Elbow makes installing (and dismantling) shade sail structures a breeze.
---
Superior Site Amenities
Superior Recreational Products creates high quality, comfortable and affordable site amenities that complete any outdoor space. Tables, benches, trash receptacles, ash urns and much more.
---
Tuuci
Miami's TUUCI umbrellas and cabanas are the epitome of both style and substance. TUUCI's shade architecture is designed to perfectly complement both land and marine environments.
---
Note: we do not mail out catalogs. This is a request for more information on a specific item(s) only.