Water Repellent Cushions and Pillows:
Awning Works Inc is a full service manufacturer of cushions and pillows. We offer many private label, exclusive Sunbrella and other outdoor fabric patterns, as well as an array of contract rated fabrics. By offering custom fabrications for cushions and pillows for any outdoor seating area, Awning Works continues to be an industry leader in all-encompassing service for the hospitality industry that includes awnings, shade sails, roll curtains, umbrellas, furniture, signage and more.
Sunbrella Rain Quick-Dry Cushions: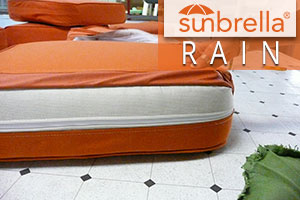 When bad weather rolls in, business owners know it can hurt their seating capacity while waiting for patio cushions to dry. Guests do not want to sit on damp cushions, and as a business owner, lost seating can mean lost revenue. Awning Works is a certified fabricator of Sunbrella Rain 100% waterproof performance fabric. Sunbrella Rain fabric, combined with a special manufacturing process that prevents moisture from entering the cushion thru the zipper area, means outdoor cushions will dry within a few minutes. Simply shake or wipe the moisture off — and you're back in business.
Cushion Fabric Choices:
Awning Works is here to help clients with a variety of needs — from the local homeowner to hotels and restaurants to theme parks. Our showroom in Clearwater, Florida is open to the public and with over 500 fabric books in stock, finding the perfect fabric to fit your decor is easy. Whether you need a new set of cushions or are just looking to update your look with new covers, our design staff is here to help.