Key Features
Pre-Engineered or custom designed
Structural welded aluminum frame
Per Florida Department of Education standards
Extruded decking panel
Interlocking roll form and composite panel roofs
Integrated gutter and downspouts
Anodized, Kynar or powder coated finishes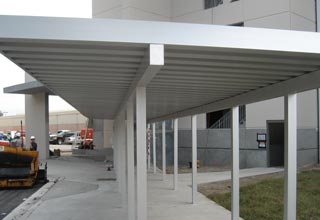 Does your school, hospital, business, or property have large areas of outdoor walkway? Are you ever concerned with the need to access a parking lot, sprint between buildings, or reach an annex area when it's raining? Even if you own a large development property, are their extended walkways that could use a covering? Awning Works Inc. is a preferred provider for aluminum walkway covers and canopies. Our quality products have satisfied clients for a long time, and we would like to demonstrate our capabilities to you.
The Product We Deliver
The technology we use is called roll formed and extruded canopy systems. The materials are comprised of aluminum flat pans, meaning that the visible side of the aluminum is smooth. Thus, there is an aesthetic appeal in addition to a long-term durable solution. Although the thickness of the metal is minimal, the protection it provides is maximum, and the components are guaranteed not to fail.
Walkway canopies require drainage, and part of our package is to use a gutter system. We combine this with fascia that combines the sleek and attractive finish of the aluminum walkway with the extreme efficiency of drainage and protection.
Meeting the Ultimate Challenge
Lest you think that your project is too extensive, consider our capabilities. Our walkway panels are designed specifically for extremely long spans. Often, such spans are accomplished without structural support.
The system we use is called interlocking roof panels, and it's a patented system. It gives architects and developers the flexibility of designing incredibly beautiful and functional work, without requiring an obtrusive system of external support. Carports, canopies, and covered walkways all utilize this method. The panels we use will install seamlessly with flat roofs, gabled roofs, or other complex structures.
We design each panel to the custom length that you need. Each panel will come pre-engineered for an easy snap-together construction. For extra flair or for lighting purposes, you may wish to install a skylight into your canopy. You may want an internal lighting structure or fans installed, which would require internal beams for extra support.
Durable Materials
We use composite roof panels with high-density polystyrene cores. They meet or exceed the specifications for maximum strength and rigid building codes. Each laminate material that we use, whether it is aluminum, strand board, or steel, is both durable and aesthetic.
Composite Laminated Roof Panels For Use in Walkway Cover & Canopies
Aside from providing excellent insulating value and economy, these walkway panels are capable of the long spans necessary for unsupported exterior/interior canopies and partitions.
Patented interlocking roof panels provide architects and developers planning carports, canopies or covered walkways with a wide range of design flexibility and product benefits. Our panels adapt easily to traditional flat or gabled roofs as well as to more complex structures and can be used to complement existing architectural styles.
Panels can be manufactured to the exact length needed, saving valuable time at the job site and are pre-engineered to snap directly together.
To customize your project, we can add skylights or internal beams to support lights and fans.
Our composite roof panels use high-density polystyrene cores designed to our specifications for superior strength and are engineered to meet or exceed the most rigid building codes. We can laminate using a variety of materials, including aluminum, steel, or strand board. Our composite roof panels are structurally designed to allow the application of shingles, tile, architectural metal or other aesthetic covering. Decorative aluminum trim caps the ends for an eye-pleasing finish.