Whether you need canopies over your various outdoor walkways, structural umbrellas over a seating area, LED electronic message signs for your storefront, or all the trappings for a children's playground, we here at Awning Works Inc. have you covered—in many cases, quite literally. We have been providing quality products and top-notch service since 1985. Based out of the Tampa–St. Petersburg, Florida area, we engineer and permit commercial sun-control structures across the state, and from our 8,500-square-foot Clearwater warehouse, we can manufacture and ship our shade controls to any national location. We do everything from the sewing of our awning's and canopy's fabrics to fabrication of the welded aluminum structural frames. We also have the capability to provide high-frequency welded seams (heat seal) to our vinyl awning covers.
Need a solution tailored to your needs? We specialize in the custom, so feel free to call in our talented team for consultations, engineering services, and CAD drawings. With Awning Works, you will discover a firm without peer in its field, a firm which can meet your exact needs.
Awnings & Canopies: Fixed
From sun to storm protection, fixed window awnings are a durable, economical choice for your commercial or industrial business. We can provide aluminum clamshells or fabric awnings in a specific color. Louvered sunshades are another solution to help lower your cooling costs and keep your guests and employees comfortable. On top of functionality, the louvered sunshade also accents your storefront.
Awnings & Roofs: Retractable
Retractable awnings are a popular choice for restaurants and other businesses. Instant shade for a patio deck, courtyard, or pool area is really an easy choice once you account for the return on your investment. The monies lost when part of your business is not usable greatly outweighs the cost of a retractable awning. It also provides a fashionable accent to your restaurant, complementing your company's branding and image with hundreds of available colors.
Park Furnishings & Amenities
From benches to picnic tables to the accouterments like trash cans, ash urns, and bike racks, we have all the trappings for parks big and small. Our metal park equipment is offered in two coating options and in a large variety of different styles and price points. This provides a coordinating look that fits your style and your budget.
Railings
They may be there for safety, but that doesn't mean they can't also be tasteful or appealing. We provide aluminum and stainless steel handrail systems in a variety of finishes for interior and exterior applications. Some of our favorites are the tensioned-cable infill systems, one of which we use in our very own store.
Shade Sails & Tension Sun Shades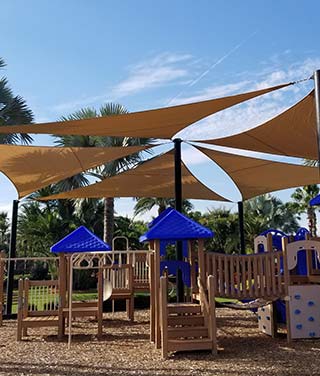 An innovative way to block all or some of the sun, shade sails and screens are heavy-duty fabrics offering various levels of opaqueness. The shade sails and screens utilized by Awning Works Inc. comprise durable, commercial-grade, high-quality material. They are designed for longevity, and they resist tearing, fraying, and sagging.
Signage
Grab attention, gain visibility, and increase revenue for your business with a customizable, cost-effective Made in the USA Watchfire EMC LED sign. If you've driven by our location (or been stuck in Tampa Bay traffic) on U.S. 19 in Clearwater, Florida, you have more than likely seen our Watchfire custom LED EMC electronic message board showcasing our Awning Works Inc. brand. Our iconic sign has helped us stand out and grab customer attention, and an LED sign can do the same for you.
Solar Sun Screens & Roll Curtains
You decide when you get all-weather protection or an open-air environment. Exterior solar screens combine pleasing aesthetics with advanced technology to increase the use of your business for a beautiful outdoor living experience. Our roll curtains are offered in a variety of screen fabrics, four different guide styles, and manual or motorized operation for complete customization.
Storm Protection
Based out of the Tampa–St. Pete area, we are familiar with bad storms, and we often see the damages that can result. Hurricanes cost Florida businesses millions of dollars every year, and with the increasing amount of major weather events that current climate conditions are generating, no one knows how devastating the next storm can be. Let us show you how you can protect your business from unnecessary losses.
Structural Umbrellas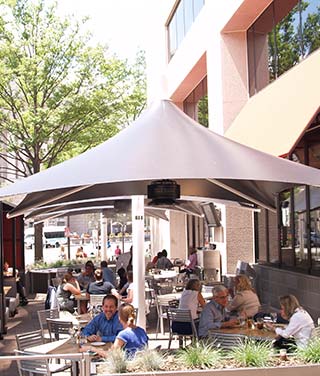 Poolside retreats and outdoor dining spaces aren't complete until they have one of our structural umbrellas. Designed to withstand high winds and provide excellent shade protection, our structural umbrellas include center-post and cantilever options as well as retractable capabilities.
Trellises
Trellises are beautiful and functional, but these traditionally wooden structures have a way of decaying, rotting, attracting termites, and otherwise aging badly. Our trellis structures are made completely of aluminum and feature a realistic faux-driftwood appearance. This gives it long-lasting durability and the ability to be custom finished.