LEXAN® THERMOCLEAR®:
the Exclusive Polycarbonate Panel of Awning Works Inc.
Key Features
Pre-Engineered or custom designed
Structural welded aluminum frame and posts
Integrated gutter and downspouts
10 year panel warranty from Structured Products
Lexan® Thermoclear® available in clear, green, opal, white, bronze tint
All aluminum and stainless steel components
Aluminum retention system can be powder coated, anodized, Kynar or mill finish
Two pre-engineered easy-to-install package systems (on your frames):
Our 25mm Panel is Self Supporting on 24" Centers, Without Horizontal Support Framing
We provide responsive and complete product support through our experienced staff and the Polymershapes technical support team. We also offer CAD Design including frame and footers, engineering, installation and permitting services.
Design Process
What is it?
Multi-wall LEXAN® THERMOCLEAR® (LTC) is a sheet that offers high impact strength, yet provides light transmission, all with superior energy efficiency. In addition to these crucial components, Lexan is one of the most long-term solutions for canopy covering materials—despite extreme weather conditions, such as are experienced in Florida. The LEXAN® THERMOCLEAR® DRIPGARD (LTD) sheet provides these advantages, but also contains a specialized coating that makes it useful for greenhouses. The weight-bearing structure of Lexan gives it a strong internal support, but the ribbed surface also displays an attractive look for any awning project.
Benefits
High impact strength, UV resistant and cold formable
15% the weight of double-pane glass
Up to 40% better insulation than single-pane glass
Transmits up to 82% of visible light
Complies with major model building codes
10-year limited warranty against breakage excessive yellowing and loss of light transmission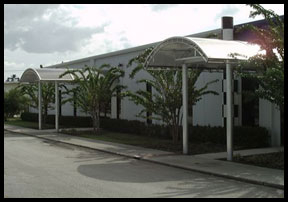 What are the Benefits of Lexan?
Depending on your needs, Lexan can be superior to many traditional canopy options. For one, it is one of the strongest materials, and can sustain high impact. This could potentially be helpful during extreme weather. For all its strength, Lexan is lightweight. It is only 15% the weight of traditional double-paned glass, yet it is many times stronger. And, when compared to glass, its insular capabilities outperform glass by 40%. That translates into better performance when trying to keep cool or reduce energy output. One of Lexan's major benefits is its use of natural light. While Lexan blocks all UV rays, it still allows the majority of usable light, giving it a unique advantage for energy-efficient lighting options. Lexan is approved for use with major model building codes, so it is an ideal option for your new construction or canopy.
A Guarantee
We offer a guarantee for our Lexan products. The guarantee protects against breakage, excessive yellowing, and loss of light transmission.
Specifications
Lexan comes in a variety of sizes: 4'×8', 5'×8' and 6'×8'. We can provide alternate sizes, based on your exact specifications.
Sheet Thickness
6mm, 8mm, 10mm, 16mm, 20mm, 25mm
Available Colors
Clear, Bronze, White, Opal, and Green (10mm only). We can provide alternate colors, based on your exact specifications.
General Applications
What is Lexan used for?
Atriums, canopies and walkways
Greenhouses
Skylights/overhead glazing
Industrial overglazing
Pool enclosures
Office partitions
Stadiums
Doorway awnings