Project Scope
Market: Restaurant
Treasure Island, FL
Client: Ricky T's Bar and Grille
Completion Date: June 2015
For 20 years, Ricky T's Bar and Grille has been a familiar locale in beautiful Treasure Island, Florida. Located on Gulf Boulevard, this popular beach restaurant is frequented by both tourists and locals and, is known for great food, live entertainment and being an easy stop just a few steps from the beach.
Instead of constantly changing out cheap promotional umbrellas from different distributors, Ricky T's decided to upgrade its patio area and install a series of structural umbrellas. Many bar umbrellas are made of cheap fabric and mass produced, and with the constant sun exposure, rain and salt air in Florida, they are quick to show wear and develop holes.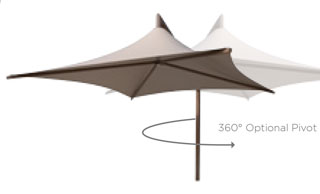 Using Serge Ferrari Soltis 502 fabric in a Tuscan orange shade, the umbrellas offer a sunset accent to the outdoor dining area of Ricky T's. The fabrics used by Awning Works are always high quality, U.V. resistant and flame resistant. This fabric in particular is much thicker than conventional awning fabric and looks great while being durable.
The Skyspan Vista umbrellas utilized by Ricky T's are a popular selection and stand out with their offset support beams suspending the retractable, pivot-able umbrellas overhead. Ricky T's also went with a Skyspan Sunset umbrella, which, like most umbrellas, has the support beam at the center.