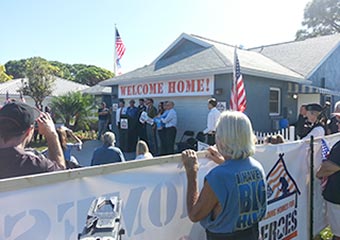 Awning Works Inc. of Clearwater, FL donated and installed 2 awnings for the Building Homes for Heroes project in St. Petersburg, FL. "We are committed to honoring those who serve our country and we were delighted to be a part of this community project", said Steven Schechner, owner of Awning Works Inc.
The Building Homes for Heroes organization began in 2006 and has since built dozens of homes for military heroes who were severely injured or disabled in the Afghanistan and Iraq wars. They make a huge difference in the life of heroes by building homes from the ground up, or in some cases, modifying existing homes to help support the needs of these brave men and women.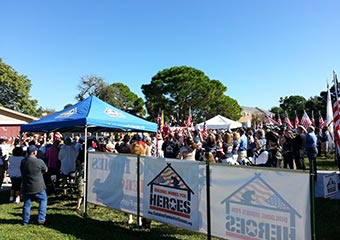 The home that Awning Works Inc. has been a part of, on behalf of Building Homes for Heroes, is for Army Sergeant Charles Claybaker. For this project, an acrylic fabric called Tempotest was used because it will provide years of enjoyment for the Claybaker family.
Sgt. Claybaker, along with 15 others, was severely wounded in Afghanistan when their aircraft crashed. Sgt. Claybaker dislocated his right hip, broke his acetabulum, fractured his tibia, severely damaged several discs in his back, suffered a double right leg fasciotomy, sustained traumatic brain injury, and copes with PTSD.
The unveiling ceremony and patriotic procession happened on Saturday, November 23rd at 10:30 a.m. at 2510 62nd Avenue South in St. Petersburg, Florida.
Awning Works Inc. is a family business, located in Clearwater, FL since 1985. They are very active in the community and have offered support to such organizations as Crime Stoppers of Tampa Bay as well as several local community sports programs, schools and churches.