Awning Works Inc. Specializes in High Quality Indoor/Outdoor Contract and Hospitality Furniture.
Our furniture line includes:
cabanas
sun loungers
outdoor tables and chairs
barstools
hospitality seating
wicker sofa sets
We offer a gorgeous selection of indoor and outdoor contract and hospitality furniture. Most of the furniture we carry is modern and sleek and caters to architects and designers who are looking for the best in quality, design, and fabric. We proudly feature the furniture lines of Gloster Furniture, Shores of Denmark, Source Outdoor and Florida Seating.
The furniture that we offer is on over 75 cruise ships as well as the popular restaurant chain of Carrabba's and Outback Steakhouse along with many resorts and hotels across the United States and Europe.
COM capability
Our sister company, Patio Lane, has 1,000s of fabrics, many of which are contract rated. This gives us the ability to COM any fabric for the cushions and other fabric portions of our furniture. These fabrics include designer choices such as Sunbrella's Fusion collection, Kravet Soleil collection and many other contract fabrics from Robert Allen, Duralee, and Ralph Lauren.
Additionally, we work with clients who are looking to create a distinctive design by offering custom color runs when specifying a minimum of 500 yards.
All of our high quality outdoor cushions are rated for contract use and are made of the finest materials, including Dri-Fast foam, which is the ideal choice for all outdoor applications. All of our fabrics can be made to comply with the flame retardant requirements for different type of hospitality and cruise line requirements.
All of our furniture is quoted by the project. We are committed to offering reliable service and competitive pricing.
View or download a variety of premier outdoor furniture, umbrella and sun control catalogs. Want to know more? Submit the form below with your preferred item and we'll get back to you with details shortly.
Florida Seating

A leading supplier of commercial furniture for the restaurant and hospitality industries. Florida Seating offers an affordable, ever-expanding collection created by award-winning designers.
Gloster

Gloster began in West Africa in 1960, representing quality and design leadership in the commercial outdoor furniture arena. Gloster employs over 1,000 craftsmen to create the world's best outdoor furniture.
Shores

Exclusive outdoor furniture with a Danish flair, made specifically for the cruise and hotel industries. Shores supplies the world's grandest cruise ships and hotel chains.
---
Source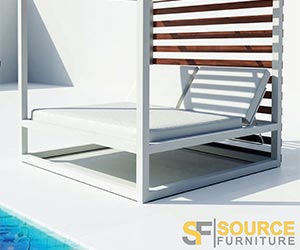 Affordable outdoor furniture for the hospitality and restaurant industries. Solve design problems and increase the value of your experience with some of the most recognizable commercial furniture available.
Superior Site Amenities

Superior Recreational Products creates high quality, comfortable and affordable site amenities that complete any outdoor space. Tables, benches, trash receptacles, ash urns and much more.
---
Note: we do not mail out catalogs. This is a request for more information on a specific item(s) only.