Project Scope
Market: Commercial
Tampa, FL
Client: Children's Cancer Center
Completion Date: March 2023
One of the mission statements of the Children's Cancer Center in Tampa is to provide "a respite opportunity for children and their families…away from a clinical setting". One area this non-profit organization provides is an outdoor play area shielded from Florida's sun with tension shade sail canopies.
Awning Works offers shade sails in a variety of shapes as well as choices of commercial-grade mesh fabrics designed to filter out a little — or a lot — of the sun's power.
Before / After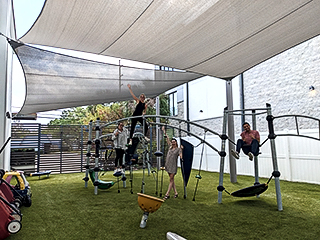 Here's what the Children's Cancer Center had to say about this Awning Works project:
"The shade sails are flying! The playground looks beautiful, and…your time, energy and some additional funding went to provide shade protection for bald heads, and comfort for cool play. Through long hours of work, you have cared for the children and families we serve here at the Children's Cancer Center, and we thank you so much."