Key Features
Commercial-grade, 10-year-warrantied fire-retardant polyethylene mesh fabrics
Structural steel post supports with 20 year warranty
Lock-stitch sewing
Coats Dabond or Gore Tenara PTFE thread
Kevlar reinforced corners and edges
Integrated aluminum-plate edge reinforcement
Marine-grade nickel-plated brass grommets
Stainless steel tensioning systems
Special quick-disconnect design with the Glide Elbow™
Electrical access panel available on all styles
Compliant with local regulations
3-step powder coat process with a 5 year warranty
Solar analysis provided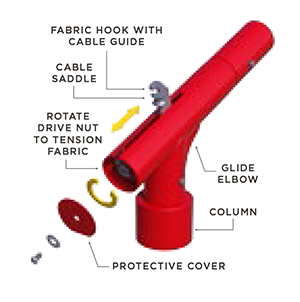 Cable-tensioned shade sails and sun shades are heavy-duty, all-weather, taut fabric canopies that filter out the sun's rays without putting you completely in the dark. They are offered in everything from squared and rectangular shapes to triangular, hexagonal and diamond designs. Overlapping two or three layers is a great way to add an architectural element to any outdoor space. The amount of light filtered out by the fabric is determined by the type of fabric that is used. Every fabric offered by us is of an extended-life, commercial-grade, high-quality material. They are designed for longevity, and they resist tearing, fraying, sagging, or wearing thin.
More than just shelter from the sun or UV rays, shade sails also block sight lines for privacy purposes. Sun screens also limit wind transferal, protecting gardens or lawns. Many use these screens as pergola, patio or playground covers or in sun rooms.
Looking for Bleacher Shade Recovers?
Look no further! Awning Works offers an attractive playground and sports complex shade recover program in Orlando and Tampa area. Learn more about our canopy shade recover program.
Where are Sun Screens Commonly Used?
Windscreens, privacy screens, fence nets & temporary fencing
Sports backstops
Livestock shading & bird netting
Kennel covers
Scaffolding nets & scaffolding enclosures
Truck covers & truck tarps (90% most common choice)
Paintball netting (use 80% w/grommets every 2 ft.)
Trellis shade structures
Outdoor gardens & nurseries
Do it Yourself:
Purchase Custom Cut Shade Screen Measured to Your Specs
Shade screen is easy to use for the average consumer. Many do-it-yourselfers have found hundreds of uses for our shade sails and screens. Because it can protect against wind, many use a shade screen to construct a windscreen in their yard or around their pool. It can also function as a privacy screen for outdoor areas. It's a quick and easy option for temporary fencing while a more permanent structure is being installed. Gardeners love shade screen because it will keep direct sunlight off sensitive plants, and works perfectly as a shade structure for trellises. Shade screen material works great as a backstop for kicking a soccer ball or even for practicing your tennis maneuvers in a driveway tennis court. Use it to protect your furniture, wrap your porch, and protect your plants. Farmers and animal lovers have found that shade screen works great for livestock shading. It also works perfectly as netting to keep birds in an enclosed area—or out of a protected area. For a construction site, shade screen is an ideal scaffolding net or enclosure. The durable fabric of the shade screen can keep falling objects from injuring passers-by. Many truck owners use shade screen as a cover for their pick-ups and flatbeds. It also works well as a tarp to collect mulch, grass clippings, and dirt. Paintball enthusiasts have found shade sails and screens to be the ideal protective barrier for paintball sites. Do you think you can find a use for shade screen? The material can easily be cut to your exact specifications using a pair of heavy-duty scissors or a strong utility knife.
To install your shade screen, order our customized stainless steel tension springs or the extra-reinforced braided nylon cord for lacing. You may purchase all your materials from us all standard shapes and panels are available using this method. If you should require a unique shape or specific request, please inform us when you place your order. To order, use whatever option is best for you:
Give us a call
Unique shapes or manufacturing can be quoted
Please be aware that all custom-cut shade screen orders may not be returned, due to the unique nature of each order.
All components manufactured in the U.S.A
Typical Panel Construction
Welded high frequency seams
Hemmed and reinforced edges with nylon webbing (not polypropylene)
Lock stitch sewing
U.V. protected Dabond thread
Nickel plated #1 brass spur grommet spaced approximately 12" apart