Project Scope
Market: Restaurant
Redington Shores, FL
Client: SeaBreeze Island Grill
Completion Date: Oct. 2015
When you're in the market for any purchase, it's a pretty safe assumption that price is near the top of your list. And how about quality? Sure, it's nice to save some money on the front end, but if the product doesn't last, then your return on investment isn't really that great of a savings.
Here at Awning Works, our SunShelter motorized awnings are a solid choice based on both price and quality, and that's why so many — including the SeaBreeze Island Grill and Raw Bar in Redington Shores, Florida — select Awning Works to provide shade solutions. Along with being customizable when it comes to color variety, our experts at Awning Works are able to tailor a SunShelter for your home or business, even when it doesn't seem possible.
We recently installed a SunShelter Elite Plus (with Pacific Blue Sunbrella Awning/Marine fabric) over the outdoor bar at the SeaBreeze Island Grill and Raw Bar. Adjoined to an area with a low roof, however, the bar wasn't well-suited for a wall-mounted awning. So our team worked with the SeaBreeze to customize a roof mount that gives their outdoor bar a fully-retractable motorized awning with plenty of headroom. The lateral arm awning is a great addition that provides shade, keeping patrons and their drinks cooler. The Elite Plus can also be upgraded to include an adjustable pitch option, allowing each corner to drop independently for even more solar control.
Built here in the United States, the SunShelter outshines the competition. We offer quality Sunbrella fabric (with a 10-year warranty) with our SunShelter, giving you hundreds of colors to choose from to perfectly meet your needs. Add that to the SunShelter Elite Plus's limited lifetime frame warranty and you have sun control that's built to stand up against the elements. With the SeaBreeze's great location right on the water, one great aspect of the SunShelter is its 5-year paint finish warranty. The finish is environmentally safe and is a durable, even powder coat that can stand up to the tropical elements.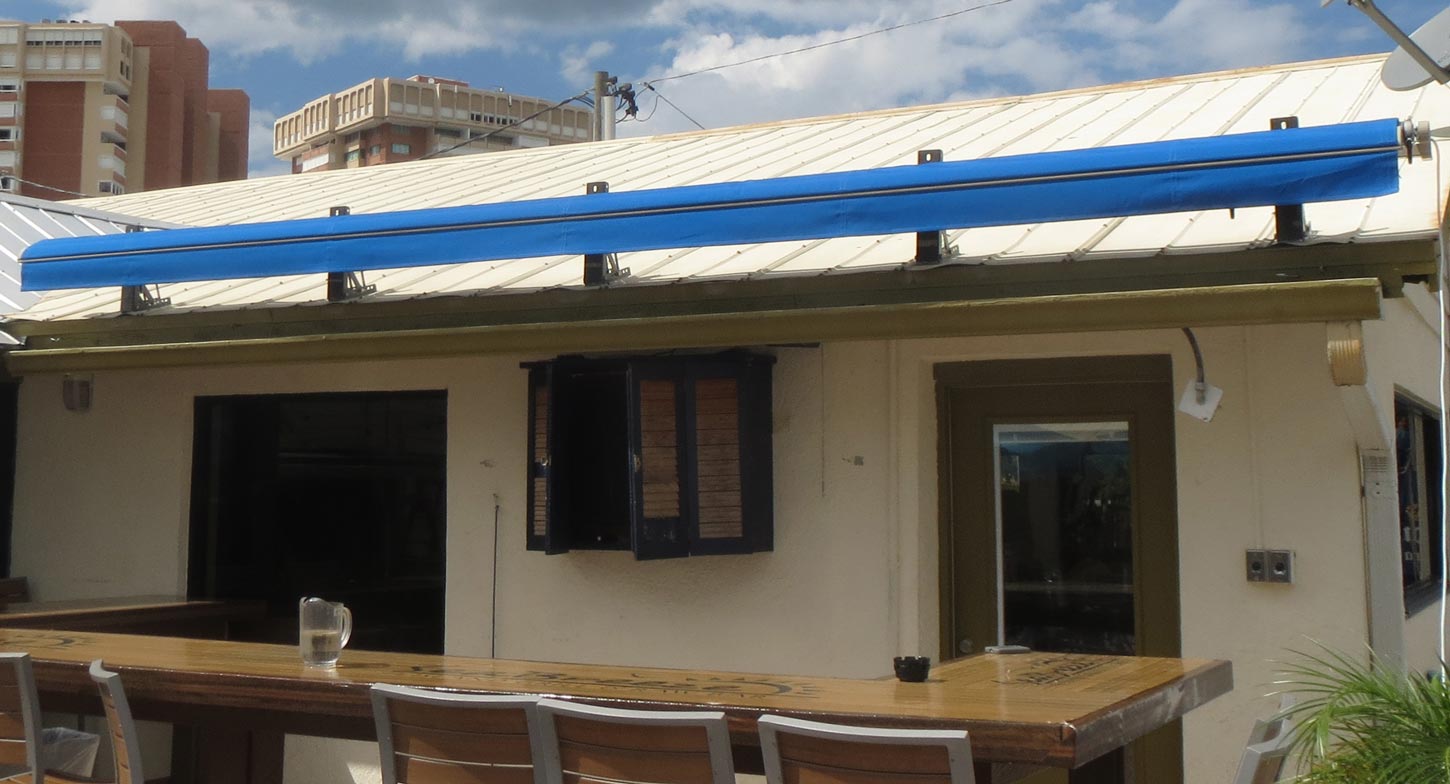 So what is the SunShelter difference over the competition? Find out more details on our comparison page or come visit our showroom in Clearwater, Florida, to speak to one of our professionals. With 30 years of successful experiences, Awning Works is here to answer any questions you may have, and set up your home or business with the right awning for you.