The GENNIUS retractable roof pergola is a new innovation from the traditional retractable awning and canopy world. Designed as a waterproof retractable roof, it improves the quality and functionality of outdoor spaces and expands usable outdoor dining areas. Complete with SOMFY® motorization and rain management features, this retractable fabric shade structure combines the beauty of a pergola with the flexibility of a retractable awning; yet is durable enough to withstand inclement weather.
The GENNIUS is designed to withstand wind, rain and harmful UV rays. With its modern design and array of fabric colors and frame choices, including Norwegian spruced wood, the GENNIUS retractable roof is versatile and can be used to cover everything from a small residential patio to an expansive 400 seat restaurant veranda.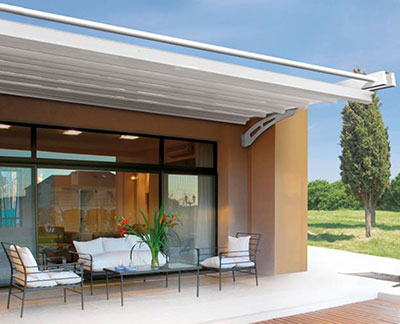 The GENNIUS retractable roof can be shipped nationwide and we can mobilize installation anywhere through our membership affiliation in the IFAI.
There are 5 different GENNIUS models, all which allow for different installation applications, projections and pitches, including a cantilever model that projects 13'-6" without column support. There is also a retractable roof pergola available that can attach to an existing pergola structure.
Download a brochure to learn more
For more information, please call 1-866-873-2941 or email us.