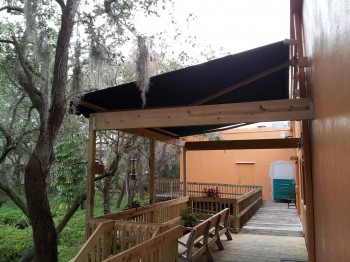 Carl and Karen Albritton, owners of the Wild Birds Unlimited Nature Store in Clearwater, recently called us for a retractable awning for the observation area behind their store. Awning Works installed a KE Outdoor SunShelter® Elite Plus retractable awning system with custom brackets to fit around the gutter system and covered it with a Dickson™ canvas, that allows them to fine tune their sun protection over the deck that looks out onto the Northwood Commons area.
The incredible natural space in the store's back lot area, the Northwood Common area, with its natural stream and lush native Floridian plant life, proved an excellent source for creating a one of a kind backyard habitat. This area, designed to provide both feeding and nesting habitats for Florida's native and visiting wild bird populations, exemplifies the Albritton's commitment to the health and safety of Florida's wild bird population and its related eco-structure.
Located at 2454 N. McMullen Booth Road in Clearwater, Wild Birds Unlimited specializes in bringing people and nature together with bird feeding and nature products, expert advice and educational events. They will help you turn your yard into a habitat that not only benefits wild birds and the environment, but brings song, color and life to your home. Visit their website and shop online at www.wbu.com.