The Cove Restaurant – Modern Shade
Market: Hospitality
Deerfield Beach, FL
Client: LM Restaurants
Architect: RWB / Linares Architecture, Inc.
GC: RCC Associates
Completion Date: March 2023
A popular waterfront mainstay, Deerfield Beach's Cove Restaurant has served customers on the Florida intracoastal for over 40 years. When renovations called for a staggering amount of modern shade, they called Awning Works to the rescue. From project management to installation, Awning Works has the professional, experienced staff to get jobs of any size completed successfully. Check out this massive undertaking:
Before/After
Serving up comfortable dining and drinks adjacent to a working marina meant constructing many covered areas surrounding the original building. In all, we installed several aluminum canopies that totaled 7,000 sq. ft. of restaurant space.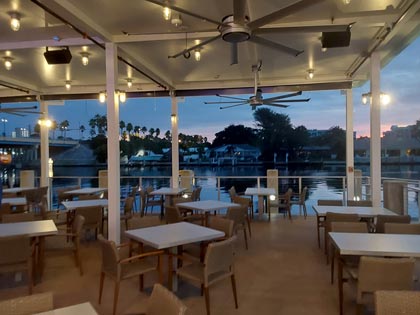 Along the perimeter of the canopies, we installed 38 motorized Patio Lane™ Solar Point Retractable hurricane screens not only to help shade the dining areas, but also to protect the restaurant in the event of a storm. These shade screens provide superior rain protection, keeping guests and their mahi mahi dry while still being able to watch the boats sail past.
Also installed were 17 metal Bahama Shutters both on the entrance to the restaurant and also adorning the brand new tiki bar. Nothing complements a waterside institution like the old-Florida look of Bahama Shutters – all aluminum construction and available in dozens of colors.
We're also proud to have worked on the finishing touch of stainless steel cabled railing – over 785 feet of it – to add a secure border on the waterfront.
Big projects like this, are one of the many reasons businesses and residents rely on Awning Works to provide modern shade.