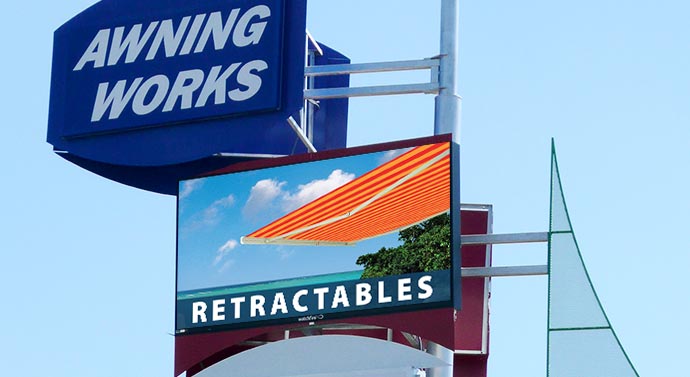 Grab attention, gain visibility, remote schedule and increase revenue for your business with a customizable, cost-effective LED sign.
A last-minute sidewalk sale. Interesting new things in inventory. Major business announcements. Capture an audience, get attention, gain visibility, and increase revenue from afar—remotely. An EMC, or electronic message center, gives your business a cost-effective voice. (Or is that a yell?) It allows you to put your message up in bright LEDs and can be changed remotely, allowing you to alter or emend your messages anytime, anywhere.
We're so confident in these LED signs, we use one ourselves. If you've driven by our location (or been stuck in Tampa Bay traffic) on U.S. 19 in Clearwater, Florida, you have more than likely seen our bright custom electronic message board showcasing our family of brands. Our iconic sign has helped us stand out and grab customers' attention, and we can back that claim up with the number of showroom visitors we now regularly have. These quality LED EMCs come with their own graphic software, which includes a library of more than 1,000 still photographs and animations, and can be equipped with Wi-Fi and Ethernet networking capabilities that give you access from any Web-connected computer. You can even schedule the content on your Watchfire sign remotely with their new app.
Also to note: Our signs carry the industry's most comprehensive five-year warranty. But better still, those warranties are backed by performance proven through the harshest test regimens. They have been subjected to 180 straight days of complete immersion, 60 consecutive days of salt spray, and 40 successive days inside a room with a temperature of 185 degrees and a relative humidity of 85 percent. Rigorous testing ensures the products can last through myriad conditions and exceeded what many clients will expect from their signs.
From your first sales contact with us to the design phase to the installation to support, our services are sure to please. Leasing options are available for many electronic message centers, so please contact our offices at 1-866-873-2941 or request a free estimate.