With the perfect heater, your outdoor seating area won't become a ghost town when a seasonal chill passes through. Keep your seating options as well as your profits all year long when your customers flock to the toasty warm areas of your patio, deck or pool area. Also consider indoor areas exposed to drafts and open doors like warehouses, entryways and carports: you can be in control so the heater only activates when there are people present. Awning Works' selection of outdoor heaters ensures complete customization in a variety of sizes and applications: tower or tabletop models, wall or ceiling-mounted — as well as stylish fire pits and fire bowls.
With so many choices, how do you know which heater is best? Awning Works offers both propane/natural gas models as well as electric. Do you find your outdoor area is plagued by brisk winds — electric patio heaters will deliver the heat you need instantly.
Most of our free-standing tower heaters come with safety features such as a tilt switch for auto shut-off, wheel kit, weather resistant cover and remote control. Having portable heat that plugs into any standard outlet or utilizes an everyday grill tank means you have total flexibility to create the perfect ambiance. You can also conserve both energy and warmth by choosing a heater that can be mounted underneath an awning or umbrella.
Electric Heaters vs. Propane Heaters
Electric heaters:
bulbs will need to be replaced
may not be as powerful as propane
requires hardwiring or needs an outdoor outlet nearby
heat in an instant
zero emissions
Propane heaters:
heats a large area
more affected by wind
complete portability: no outdoor outlets needed
up to 10 minutes warm-up time
not smart to use in badly ventilated area
Choosing between propane and natural gas is sometimes simply a matter of: do you have or plan to have a natural gas line installed or are you comfortable with the expense and time of switching out propane tanks? Also, if you want a heater that can be easily moved, a propane tank is the answer since there's no worry about electrical cords. Beyond that, the question of propane versus electric heaters can require a closer look:
Solaira Commercial Electric Infrared Heaters
---
ICR Series
---
XL Series
---
Alpha
---
Cosy Series
---
Aura ComfortPlus
Fire Pits and Fire Bowls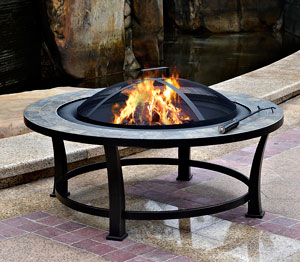 Sometimes nothing beats the look and feel (and smell) of a real fire. The experience of sitting around a cozy fire is one of the few reasons many folks look forward to cold winter nights. Awning Works' line of fire bowls and outdoor fireplaces make building and maintaining a wood fire as easy as it is stylish — all you need to bring is the 'smores!
If you prefer the ease of propane to keep you warm, we have a selection of many beautiful fire pits with instant ignition, as well as the fire glass to both hold onto the heat as well as create a glow in an assortment of colors with no smoke or embers.
Warm Weather Solutions
Why let a fan circulate already-hot air when you can provide guests and customers with a high-tech evaporative cooling fan that sends a fine mist throughout your outdoor area.